University and San Antonio Zoo Celebrate Zoo Ring Day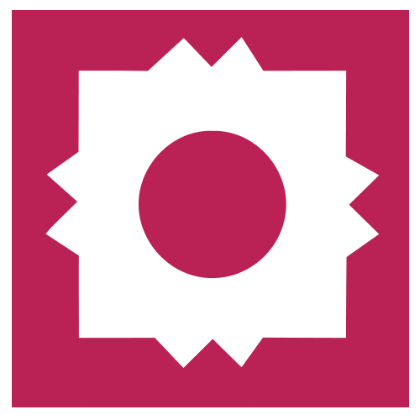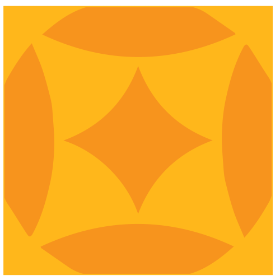 By University Communications
Thursday, 11 02 2023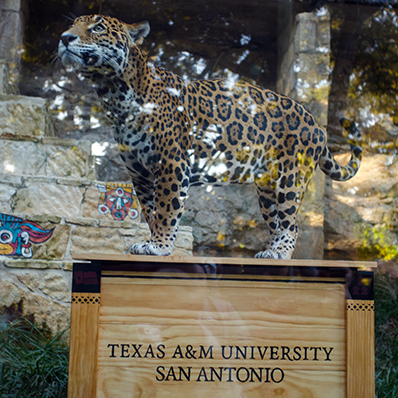 San Antonio- Texas A&M University-San Antonio and the San Antonio Zoo held a celebratory event today with the help of a very special guest, B'alam the Jaguar. A host of University faculty, staff and students attended, including President Salvador Hector Ochoa, Vice President for University Relations and Advancement Dr. Jesse Pisors and San Antonio Zoo President and CEO, Tim Morrow.
"A&M-San Antonio is thrilled to once again celebrate our partnership with the San Antonio Zoo, as both organizations are dedicated to education and enriching the community," said Pisors. "This event, which we kicked off last year, is a fun and symbolic way to recognize the academic achievements of our students at one of the region's most popular and cherished attractions."  
 During the celebration, the University Ring Chest took center stage in the jaguar habitat, which was expanded in 2021 with the Pantera Walk, sponsored by A&M-San Antonio. The elevated catwalk system allows the jaguars to roam through the habitats of different animals, including birds and monkeys. B'alam, one of the San Antonio Zoo's most beloved residents, will oversee the ring boxes within the habitat before they are taken back to the University where they will be officially presented to the students during the on-campus Ring Day, creating a memorable experience for everyone involved. (See video of B'alam greeting guests).
 "We are absolutely thrilled to be part of this special and unique tradition alongside the Jaguars at Texas A&M University-San Antonio!" said Morrow. "It is a joyous occasion that signifies not only the incredible achievements of these students but also their commitment to excellence and their bright futures ahead. The Jaguars embody the next generation of leaders and wildlife enthusiasts who will play a crucial role in shaping a world where nature thrives." 
 As part of Ring Day, University ring boxes are placed in a ceremonial chest crafted by Practicum of Construction Management students from South San High School. This chest symbolizes the University's collaboration with the ASPIRE Network, an educational partnership aimed at empowering South Bexar County schools, districts and families. ASPIRE strives to create a better life by offering students an affordable university degree close to home while strengthening the community.
###
 About Texas A&M University-San Antonio
Established as a stand-alone university in 2009, Texas A&M University-San Antonio is a comprehensive four-year public university that reflects the culturally diverse, heritage-rich community it serves. Situated on nearly 700 acres in South San Antonio, the University offers 39 undergraduate degrees and 23 graduate degrees to about 7,620 students. A&M-San Antonio is home to the Henry G. Cisneros Institute for Emerging Leaders and the Cyber Engineering Technology/Cyber Security Research Center. The University holds the Hispanic-Serving Institution (HSI) designation and is one of 39 higher education institutions in the U.S. to have received the Seal of Excelencia certification from Excelencia in Education for its support of Latino student success. More than 77 percent of A&M-SA students identify as Hispanic, and approximately 72 percent are the first in their families to attend college. A&M-San Antonio is a military-embracing institution; the University was recently awarded the 2023 Gold Veteran Education Excellence Recognition Award (VEERA) from the Texas Veterans Commission. Visit tamusa.edu for more information. #onamission
###
About San Antonio Zoo
San Antonio Zoo®, operating since 1914, is a nonprofit zoological facility committed to securing a future for wildlife. Through its passion and expertise in animal care, conservation, and education, the zoo's mission is to inspire its community to love, engage with, act for and protect animals and the places they live. The zoo welcomes more than a million visitors each year and is open year-round. San Antonio Zoo operates the largest nature-based preschool in the country, Will Smith Zoo School, the Center for Conservation and Research, and Kiddie Park. San Antonio Zoo is accredited by the Association of Zoos and Aquariums, the Zoological Association of America, and Humane Certified by American Humane.