Mr. & Ms. A&M-San Antonio
Mr. & Ms. A&M-San Antonio will be Texas A&M University-San Antonio representatives and participate in several University-sponsored events throughout the year, including Fiesta. Mr. & Ms. A&M-San Antonio will also be asked to participate in community service events sponsored by the University and/or the Campus Activities Board. It is of the utmost importance that those vying for this title uphold the highest standards because they are not only representing the University but also the students that attend.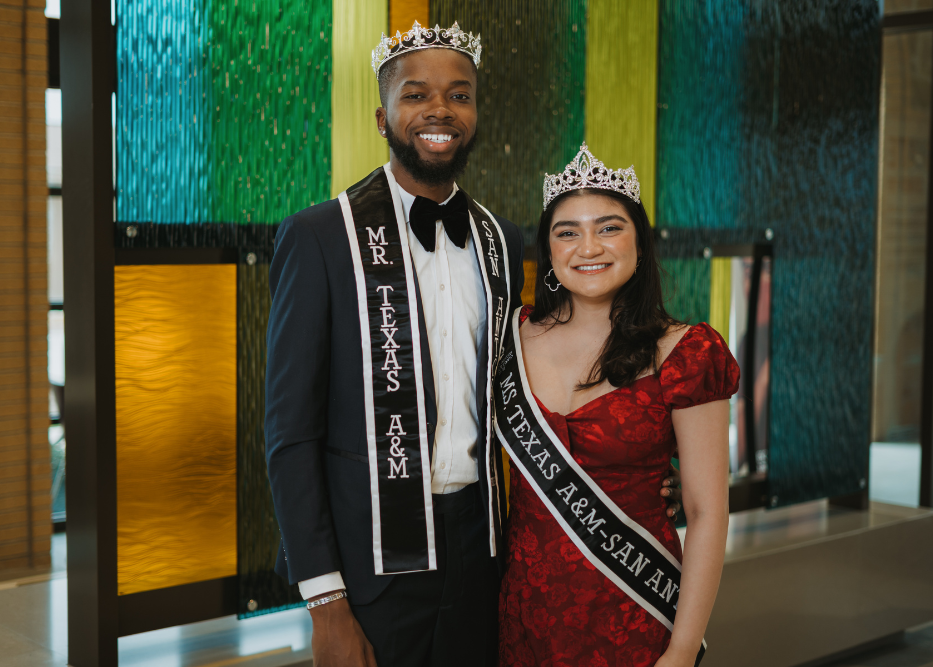 2022-2023 Mr. & Ms. A&M-San Antonio
Joe Kamuntu


Joe is a Junior majoring in Computer Information Systems with a minor in Digital Marketing. Joe is very active around campus from serving as the Co-Director of the Campus Activities Board, serving as the Inaugural Captain of the Men's Soccer Team in 2021-2022, a member of the Black Student Union, the Achievement Initiative for Minority Males, and the National Society of Leadership and Success. We asked Joe What Makes Texas A&M-San Antonio YOUR University (Why did he choose A&M-SA)? & he responded, "Being part of Texas A&M-San Antonio makes me feel like I am way more than just another student number passing through the system. I feel welcomed, appreciated, and loved by peers, classmates, and even faculty and staff. This is my university because I feel like I am part of something greater – I am contributing to what will one day be one of the most prestigious institutions in the state and even the country. That's why I chose A&M SA, and that's why I would choose it over and over again every single time.
Lanie Perez


Lanie is a Communication Major with an English minor and Digital Marketing Certificate. Lanie's advice for incoming students is to don't be afraid to step out of their comfort zone. Join clubs and organizations, create study groups with your friends, remain optimistic, and spread paw-sitivity! Lanie is currently the social media assistant for the university pages in the office of marketing and communication. In addition, is the founding president of HER Campus and the Senator for the College of Arts and Sciences for the Student Government Association.
Former Mr. & Ms.
2010
Mr. - Steven Wiatrek
Ms. - Melissa Sanchez
2011
Mr. - Antonio Gomez
Ms. - Stefanie Gower
2012
Mr. - Justin Garcia
Ms. - Josephine Martinez
2012 - 2013
Mr. - Armando Prado
Ms. - Jenna Marie Mata, Mary Laredo
2013 - 2014
Mr. - Felipe Lopez
Ms. - Kassandra Ramon
2014 - 2015
Mr. - Christian Mac Donald
Ms. - Savannah Villanueva
2015 - 2016
Mr. - Yamell A. Valencia
Ms. - Shelby A. Benzoni



2016 - 2017
Mr. - William Manning
Ms. - Cindy Silva
2017 - 2018
Mr. - Greg Gonzalez
Ms. - C. Arce
2018 - 2019
Mr. - Isaac Castro
Ms. - Elisha Bedford
2019- 2020
Mr. - Zachary Franckowiak
Fall 2019 Ms. - Alyssa Alvarado
Spring 2020 Ms. - Karina Salmon
2020- 2021
Mr. - David Galvan
Ms. - Karina Salmon
2021- 2022
Mr. - Fayaz Lal
Ms. - Angela Diaz
2022- 2023
Mr. - Joe Kamuntu
Ms. - Lanie Perez
Interested in Running?
 Applicants must meet the following requirements:
Maintain a 2.5 Undergraduate GPA Or a 3.0 Graduate GPA.
Must have completed 12 credit hours at A&M-SA 
Must be committed to serving a full-year term. The term begins at the crowning at Fall Fest 2021 and to crowning at Fall Fest 2022.
Must be enrolled for a minimum of 6 undergraduate or 3 graduate hours at Texas A&M University-San Antonio and be in good academic and judicial standing with the University.
Must be able to provide a 1-week notification (unless experiencing an emergency accepted by the Coordinator of Student Involvement, Jarrick Brown) if unable to attend a prescheduled appearance.
Must obtain transportation to all designated University events and community appearances.
Must follow the dress code outlined for event appearances established by the event coordinator (varies based on events) 
Must not be a candidate for graduation, at least until December 2022.
This position comes with a $500 stipend and a parking pass.
 Frequently Asked Questions
Do you have to run with a partner?

No, you do not have to run with a partner. Although most candidates/finalists run with a partner, it is not mandatory for you to do so.

Can first-year students run for Mr. & Ms. A&M-SA?

First-year students cannot run for these titles unless they have already completed 12 credit hours at A&M-SA.

What are the rules for campaigning?

All campaigning rules and guidelines will be discussed at the candidate meeting.
The Application Period has ended.